Smart Retirement
Starts Here
Most of your employees are broke.
Of Americans have less than $10,000 saved for retirement
Don't prepare a detailed monthly budget
Have more credit card debt than savings
You may think this doesn't affect you, but it is definitely affecting your business. Money stress is shown to substantially lower productivity, reduce employee retention rates, and lower 401(k) contribution rates. It results in an increase in loans and retirement withdrawals, which depletes the company match you've been supplying as a benefit.
But there's something you can do.
Personal finance is 80% behavior and only 20% head knowledge.
Your employees want to invest in their retirement, but with so much of their income going out the door toward debt payments, they don't have the money to put toward savings. Debt is not the problem; it is the symptom. You have to get to the root of the issue to truly solve the problem.

SmartDollar is a holistic approach to retirement education that produces lasting behavior change. We will help your employees get out of debt, on a budget, and on their way to saving for retirement. We provide independent retirement education; we're not trying to sell them anything! Your employees don't need a sales pitch. They need guidance.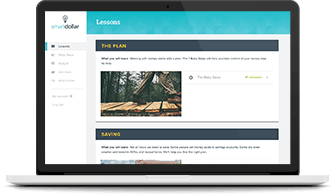 Ready to be a hero?
Take the next step toward improving your employees' financial well-being.
Get Started
Loading Streaming Player...