SmartDollar
Doesn't Gamble
With Retirement
Let's face it: Most employees aren't even close to being on track for retirement.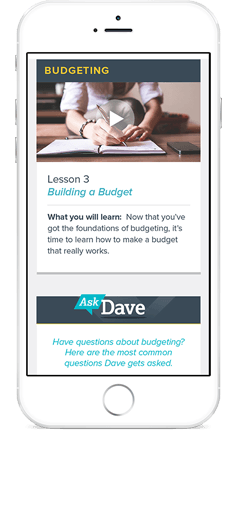 In fact, most employees aren't even thinking about it. SmartDollar teaches your employees to proactively take control of their money with the help of America's number-one authority in personal finance, Dave Ramsey. With the perfect combination of clear direction and motivation, Dave has helped millions of people permanently modify their behavior and completely change their financial futures. This turnkey program is simple to understand and easy to use—and it delivers proven results.

Proven
We provide detailed reporting so you can see the program's results. The average person pays off $3,300 of debt and saves $5,000 in the first six months. Our program is effective because it focuses on continued behavior change over time instead of quick fixes.
Turnkey
We provide everything you need to roll out SmartDollar to your employees and to encourage participation.


Personalized
SmartDollar meets your employees where they are. Our program walks with them over time with relevant tools and information for their specific financial situation.
Independent
Our program is completely unbiased and does not sell investments or insurance products of any kind. SmartDollar is purely educational.


Scalable
Our online platform allows you to deliver this program to your employees and their spouses effectively no matter where they are located and what their work schedule might be. Plus, it's accessible on any device!
Retirement Education
ERISA attorneys have agreed that SmartDollar can be a permitted plan expense as a participant educational tool under ERISA. Many SmartDollar customers pay the cost of the program from plan assets.

Not sure if your employees need SmartDollar?
Request a free wellness survey.
Request a Survey
Building a solid financial foundation begins with a holistic approach.
Everyone agrees that behavior modification is required to get employees on track for retirement, but Dave's unique approach delivers it. We organized retirement education in a way that tackles the real issues first. Employees know they should be contributing more to retirement — and they want to — but with a lack of emergency savings and 24% of their paychecks going to non-mortgage debt payments, they just don't have the money. Our proven plan gives each participant and their family action steps to build a strong financial foundation so they can get on track for retirement, no matter where they are today.
Ready to be a hero?
Take the next step toward improving your employees' financial well-being.
Get Started