Dave Ramsey:
America's Trusted Voice on
Money and Business
Dave Ramsey is a personal money-management expert and extremely popular national radio personality. His seven best-selling books including three #1 National Best Sellers, have sold more than 10 million copies combined. Smart Money Smart Kids, his latest best-seller, was cowritten with his daughter Rachel Cruze and debuted at number one.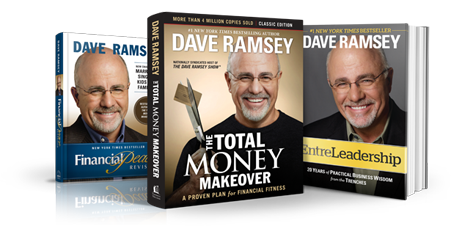 8.5 million weekly listeners
on more than 550 stations
7 Best Selling Books
including three #1 National Best Sellers
More than 2.5 million families
have completed his program
1 in 3 public high schools
now use his program
Ramsey offers his life-changing message as host of a nationally syndicated radio program, The Dave Ramsey Show, which is heard by 8.5 million listeners each week on more than 550 radio stations throughout the United States. In 2009, he was honored as the National Association of Broadcaster's Marconi Award winner, and in 2013 he was inducted into the NAB Broadcasting Hall of Fame.
He is the creator of Financial Peace University (FPU) and SmartDollar, programs that help people dump their debt, take control of their money, and learn new money behaviors. More than 2.5 million families have used Dave's programs at their workplace, church, military installation, local nonprofit organization or community group.
If you live like no one else, later you can live like no one else.
— Dave Ramsey
Ready to be a hero?
Take the next step toward improving your employees' financial well-being.
Get Started
Loading Streaming Player...